Reflections, established in 1992, is Derbyshire's largest-circulation targeted lifestyle magazine. It is delivered free through around 20,000 letter-boxes throughout Chesterfield, Dronfield, Matlock, Bakewell, Wirksworth and surrounding areas. It is also available from over 100 key outlets throughout the area.
Advertising Service
As a small, independent publisher we believe in offering a personal, no-pressure service to our customers. We do not believe in selling 'white space' but offer a true marketing service which has worked for our advertisers for a quarter of a century.
Editorial
Reflections' editorial focuses on local features written by our skilled, county-loving writers on a variety of subjects including local history and local personalities, the work of artists, photographers, and artisans, walks, dining out, competitions and a comprehensive What's On guide. We firmly believe that Reflections is the local magazine people most like to read. Indeed, we have the proof – fans who have accumulated a library of editions since it began in 1992!
Design Service
Our designers are fully qualified and have long-standing commercial experience in the advertising and graphic arts sectors. They understand the need of customers, are always happy to discuss requirements and are able to interpret sales messages into advertisements that have the power to persuade. Accurate targeting means that your investment in advertising is maximised, giving our clients the best possible chance of gaining a great response.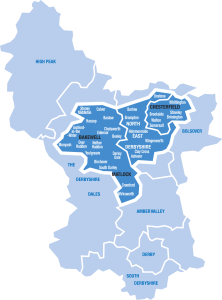 Our Distribution – Unique in its field
Our approach to distribution is unique and we believe it puts us head and shoulders above all our competitors. We have used the tax-banding system developed by central and local authorities. This means we reach readers who inhabit homes from the D-H tax bands, from moderate value to the highest ceiling value – even Chatsworth House receives one! In addition, Reflections is available from over 100 key outlets throughout the area – tourist information offices, libraries, etc – and by postal subscription.
What Our Advertisers Say…