Not another thunderstorm…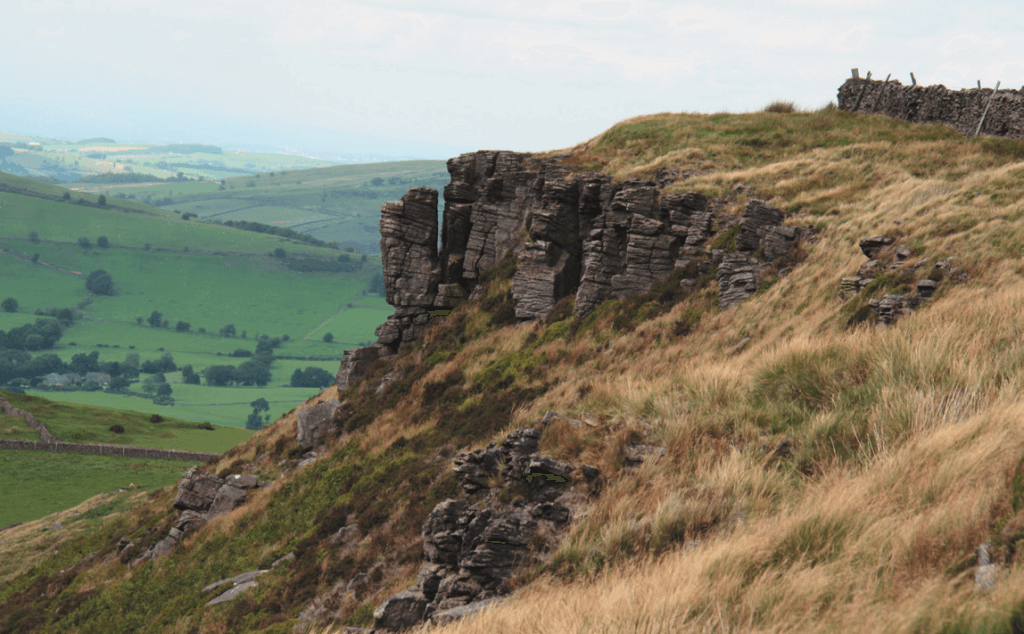 HERE'S an entry into our 'Go Offroad' photographic competition that definitely sums up the weather over the last month! It was taken by Ian Moorcroft, of Elm Street, Hollingwood, in early August and is, of course, looking across the dam wall at Carsington Reservoir. We are not surprised that Ian says: "Ten minutes later, it poured down!" We have had some lovely days, too, this summer and this picture from Andy Hanna, of Great Longstone, shows exactly what you need to take for a stroll above Toddbrook Reservoir, near Whaley Bridge. It was taken in late June. It's not every day you are lucky enough to get a fine picture of a heron, but it happened to Marilyn Micallef, of Gritstone Road, Matlock, when walking in Bradford Dale on August 2. She says: "He was motionless but a slight head movement convinced me he was real!" Next, a photograph from Peter Wigglesworth, of Matlock, which he calls 'the laughing deer'! It was taken on the Eastern Moors in late July. Mam Tor is clearly a remarkable place to capture amazing sunsets, which is what Claire Davison, of Old Whittington, caught on camera at precisely 9.05pm on August 8.
Reader Russ Teale, of Newbold, said he took this on June 30 "during an evening stroll through the Longshaw Estate with only the sheep for company." This photograph of Bolsover Castle and part of the town illuminated by evening sunshine was taken from White Edge, high above Froggatt, around 13 miles away as the crow flies! Obviously, it was taken with a telephoto lens, by Brian Smith of Upper Newbold, on August 17. Next, a delightful view across Curbar from the Edge, with the former Calver Mill prominent (right centre). It was taken by Roy Goodall, of Matlock. This distinctive gritstone feature is Castle Naze on Combs Moss, near Buxton. It was taken on July 22 by Andy Hanna, of Great Longstone, who says: "This rock looks as though it is about to fall off." It certainly does, Andy!
A lovely picture next of a veritable carpet of heather at Ashover Rock, taken on August 18 by Janice Dyson, of Wingerworth, who says: "Finn the dog is much more interested in the fact that someone mentioned biscuits!" Next, an unusual – to say the least – wildlife shot from Brian Smith, of Upper Newbold. In the four hours he was on and around Ramsley Moor on an early August day, he caught this grass snake enjoying some 'wild swimming' in Ramsley Reservoir! Finally, this picture by Ian Moorcroft, of Hollingwood, was taken on a glorious August day during a walk along Baslow Edge. For our 2020 'Go Off-road' competition, we want pictures that capture the beauty of our county – but they must be taken in places that can only be reached on foot, or horse, or even mountain bike! The picture(s) must be taken this year and in Derbyshire – and we want entries from amateur snappers and not commercial photographers. You can enter as many times as you like. Please email your entries to barrief@bannisterpublications. co.uk giving your full name and address, a contact telephone number, and a description (including the date the picture was taken) of the image, which should preferably be attached as a high-resolution jpeg. The winner will receive a meal for two at a top local restaurant, plus the chance to have a selection of their images published in Reflections. The deadline for entries is October 15, 2020 – so there's still enough time to snatch a winning shot!