What great celebrations there were in Derbyshire 75 years ago on   May 8, 1945.  It wasn't the end of World War II – it was "Victory" in Europe" only – but at least the end was in sight, as Godfrey Holmes recalls.

A GREAT celebration was planned in the Chesterfield area on this year's 'replaced' Bank Holiday – May 8 instead of May Day – until the arrival of coronavirus. No pageant, no parade, no tea dance in Chesterfield Town Hall.
However, 2020's damp squib doesn't deter us from re-imagining the celebrations of 1945; also 1970, the 25th anniversary of V.E. Day; and 1995, the 50th anniversary. Nor should we ever ignore the subdued victory celebrations of 1918.
Derby, due to its sheer size, was best prepared for 1945's V.E. festivities; but every other town or village in the county seems to have put on a spread. Those were not affluent times. Food rationing was still very much in force and queues were long, not least to get to the seaside. But it was felt nine-year olds, who had only ever known strife; and 10 to 15-year-olds, whose education and upbringing had been so clouded by warfare; deserved some merriment.
As for the exact locations for celebration in 1945: Chesterfield's Queen's Park, the town's Market Place – also Hasland, Clay Cross, Staveley and Belper's fine recreation grounds – came out top of the list.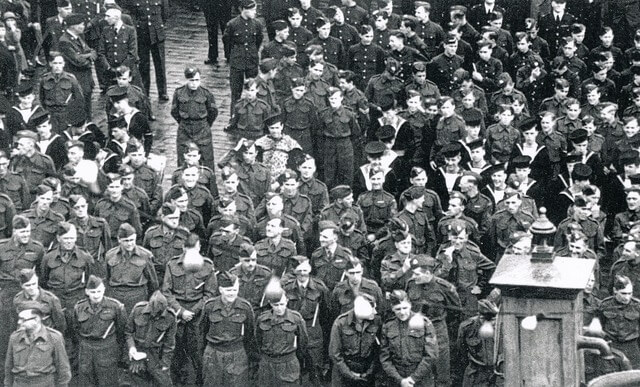 As for suitable clothing, military uniforms spoke for themselves. For those on the Home Front, "Ruth" in the "Women's Corner" of a Chesterfield news-sheet had this to say: "If you do have to wear some 1939 glad-rags, be glad you have them; so call them 1945-issue. 100s of people will be doing the same; you will have new coupons to spend this summer: so dress [this May & June] in old-fashioned Austerity Style!"
So, while we must postpone jollification this year, let us recall the thousands of ill-fed, stressed-out Derbyshire folk who ventured outdoors on that V.E. day, May 8, 1945, to make the most of at the long-awaited cessation of hostilities.